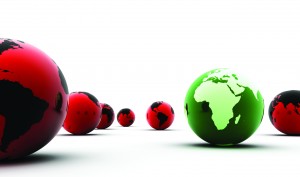 Navistra's Global Visibility is Superior to Big Box Competitors

Global visibility is not about notice on an international level and it is not about satellite images flowing back to your office. No, global visibility is much deeper than that. It's a state of mind on the forefront of development, an ever-evolving mindset in the pursuit of superiority. One dictionary defines visibility as a "measure of the ability of radiant energy to evoke visual sensation." Under those terms, global visibility is more about energy, and efficiency on a global level. Focused, contemporary technology makes this possible. Navistra makes it possible for you.
Global Visibility Enhances Fleet Management
As a fleet owner your main objective is to increase revenue and reduce overhead. The best way to do this is to maximize efficiency without compromising safety. Optimal fuel mileage and peak performing equipment reduce your liability and put you on the road to maximum profits. Dynamic, trade-specific data increases profitability. At Navistra, we design and implement enterprise-class solutions drawn from modern technology and tailored specifically to each client's business. Our products and services level the playing field and bring the global marketplace to the forefront of each fleet.
With Navistra's Vehicle Management System driver and vehicle performance can be monitored on any device, anywhere, and at any time. Real-time mapping is not just about finding the shortest routes for drivers, it's real-time route optimization. It allows the vehicle to be monitored around the clock, right down to the idle time. Fleet owners will have an accurate time stamp for each visit and proof of service through the vehicle history report. Instant alerts are incorporated into the software and alert the end user of sudden stops, speeding, and scheduled maintenance. All of this data is compiled into easy-to-analyze reports for managers to evaluate, schedule, and make needed improvements. These reports also make great tools for driver and team member coaching.
Our exclusive GeoTrackz software™ is revolutionizing the logistics industry from start to finish. With this cost-effective, cutting edge technology you define your boundaries and your alerts. It allows orders in any shipment to be tracked to their exact location in real-time. Even expedited orders and brokered freight are easy to locate. Should an improper boundary be crossed, tracking can be initiated at a rate of 15 second loops. This unique web-based platform includes street-level viewing and intuitive dashboard controls. Every shipment is vitally important and now it can be protected, too.
Why Navistra is Better Than Big Box Competition
 Simply put, big box competitors are selfish. Padding pockets is the bottom line. Market share is more important than suiting the needs of individual clientele. Small fish are small numbers and they don't have time for that. Clients are expected to buy services and prices that are already set, not tailored specifically for their needs. Most clients would rather work in a spirit of collaboration with someone willing to take the time to understand their specific situation. This is simply not profitable for large competitors. Sure, all the huge enterprises offer fleet management and cargo tracking. Navistra is the only company that lets the client pick and choose any combination of unique technology to optimize efficiency and suit the operating budget. Navistra develops fleet technology and drags it into the 21st century kicking and screaming.
Navistra's global visibility offers comprehensive fleet management by maximizing the return on investment for each client. Optimizing scheduled movements and boosting productivity is the best way to do this. Asset and cargo is secure and visible from location to destination. We are uniquely positioned to help mitigate the risks associated with shipping precious cargo. Additionally, we streamline the process to make it profitable. At Navistra, every client is the most important one. That is why each system is exclusively tailored to each client's individual needs.
To learn more about our services, visit www.navistra.com