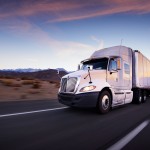 Why Should I become a Truck Driver?
Have you ever considered a career as trucker? Whether you have or not, it actually might be something to seriously consider. Most children have dreamed of being a trucker at least once while playing with their Tonka® trucks. Maybe you love the idea of living on the open road, or dream of the freedom, riding with 80,000 pounds behind you or getting to play on a CB radio. Regardless of your reason for considering it, a career in trucking might be right for you.
Imagine starting your day in 75° weather only to end it in 12° weather, or to literally drive into the sunset? You will see places that most people have never heard of, or even dreamed of visiting. The best advice is to treasure every moment, view and pit stop.
Trucking is a lifestyle, it is not a job, so remember that because you can be on the road for weeks at a time and usually alone. However, if you are independent, hard working and love a good adventure then trucking could be for you. Everyday is a new adventure; you will never have the same day twice. It is not uncommon for you to be in 5 different states in one day or to meet and talk to hundreds of new people in one day.
Trucking is not recommended for people with young children but that doesn't mean you can't ever be a trucker. Simply wait until the children are a bit older. Unfortunately trucking can be extremely tough on families and marriages. Consider this particular aspect carefully when deciding on this career path. In some cases, you are permitted one adult passenger (a spouse perhaps) and some even allow an immediate relative at least 10 years old. Research the particular company prior to committing to learn about their particular policies and regulations.
Trucking can be lonely so if you are introverted then this career is ideal for you and some of the most successful drivers tend to be introverts. Adapting to the trucker life takes time but it can be fulfilling once you are accustomed to the lifestyle.
Trucking is not for most people but to the chosen few who its right for, it could be the dream of a lifetime full of fun, adventure and friendships all over the country.